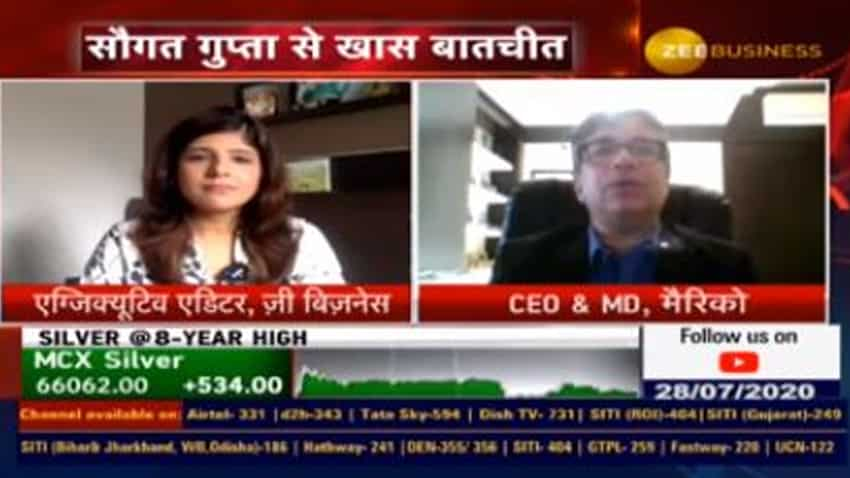 Saugata Gupta, Managing Director and CEO, Marico Ltd, talks about Q1FY21 results, VAHO segment, what is his business outlook for future, market share gain and price cut exercise in the hair oil segment among others during an interview with Swati Khandelwal, Zee Business. Edited Excerpts: 
Q: Marico has posted a good set of numbers in Q1FY2. Despite challenges, the edible oil segment has done well but the concern is the VAHO segment where growth was slow. By when can we expect a recovery in that segment?
A: Obviously in VAHO, we couldn't sell much in April. Its sale started in the last week of April. If you have a look at our last year's annual average monthly run rate then VAHO was at 94%. There was slight growth in VAHO in May and June and I believe that there is a huge focus at the bottom of the pyramid segment in VAHO and there were a market shares gains. Nielson's trend shows that VAHO's off tick has reached the pre-COVID levels in June. I hope that the quarter-to-quarter growth will be back gradually in the third and fourth quarter.
Q: How was the trend in May and June and how your performance improved in July? What is your outlook for the near future?
A: In May and June, we delivered 3% growth. We attained some growth in July as well. But this quarter is a bit different because quarter one was predictable as COVID situation was concentrated in big cities but by now it has spread in a lot of hinterlands due to which localized lockdown is creating disruptions. Hopefully, if things don't deteriorate further then we can achieve growth in this quarter. 
Q: You have said that there was a market share gain in many products and segments. Can you let us know about how much growth was seen and in which products?
A: 90% plus portfolio has gained the market share. In discretionary that include personal care and premium personal care, then it is difficult to take the trends of Nielson in it because a lot of outlets were closed. So 90% of the daily consumption items whether it is coconut oil, hair oil, Saffola and foods, we have gained the market share in each one of these, which is 90% of our portfolio.
Q: You have taken price cuts in the hair oil. Can you tell us the level of price cut and was it because of lower raw material cost?
A: Some price cuts were taken in the fourth quarter. There was a price cut in Parachute because the input cost is a bit soft at present and we have passed it in form of price offs and 5% to 6% price cuts in the form of promotions, we are running on Parachute.
Q: What is your outlook on the margins and what kind of margins the company will maintain in the coming quarter?
A: Ad spends were quite low this time because we didn't advertise in April. But in May and June, we have reached 80% to 90% of the normal. So, full-year Ad spends compared to the last year will be around 100 to 150 basis points lower because we will not invest in discretionary categories. Besides, a lot of cost transformation exercises has started but we will continue to pass a value to the consumers, this is why our balance operating margin will be 20% plus in the third quarter.