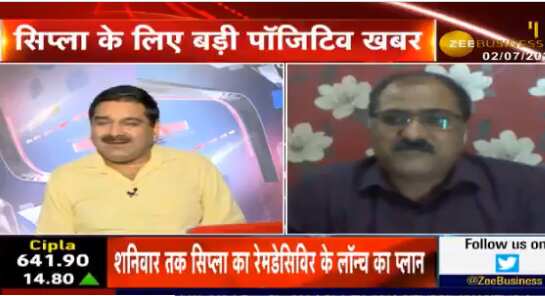 A big news on the coronavirus vaccine front for the public at large and for Cipla is here! From this Saturday, it is expected that Cipla would be providing its own Remdesivir drug in the market. The company has already indicated the development to its distributors. Zee Business' Brajesh Mishra revealed this in exclusive report in a chat with Managing Editor Anil Singhvi.
There is a massive shortage of Remdesivir drug as there is not enough supply, with only one company, Hetero Labs, catering to the demand, Mishra said. However, another pharmaceutical company Cipla will bring its own version of Remdesivir in the markets from Saturday. The scarcity of the vaccine will likely end after its launch, he said.
Watch Zee Business Tweet Video Below:
#ZBizExclusive | सिप्ला के लिए बड़ी पॉजिटिव खबर… अगले हफ्ते से सुधरेगी रेमडेसिविर की सप्लाई

> शनिवार तक सिप्ला का रेमडेसिविर के लॉन्च का प्लान#Cipla @AnilSinghvi_ @BrajeshKMZee pic.twitter.com/OVaOyCAbxf

— Zee Business (@ZeeBusiness) July 2, 2020
Hetero Labs will bring 1 lakh units of the vaccine in the market in the next two weeks. This is especially important for the people who have been affected by the virus.
Currently, Remdesivir supply to the market is hardly around 3000 units per day.
Mishra said that Cipla has been slightly late in bringing this vaccine in the market since it got approval for manufacturing. It is unlikely that there will be any further delay.
The Remdesivir being supplied by Hetero Labs carries a price of Rs 5400, Mishra said adding that Cipla is planning to keep it below Rs 5000.
It is also not known when the other companies who have an agreement with Gilead, will launch their versions. Though Cipla lost the first mover advantage, the development augurs well for the company and also for the people.
The vaccine has been in short supplies globally, and US has secured supplies of Gilead for the next 3 months. This means that 100 per cent production done by the company in July will go to the US while around 90 per cent of the production for August and September months will also go to it.
See Zee Business Live TV Streaming Below:
Company's pact with Cipla will help meet the shortages in India.